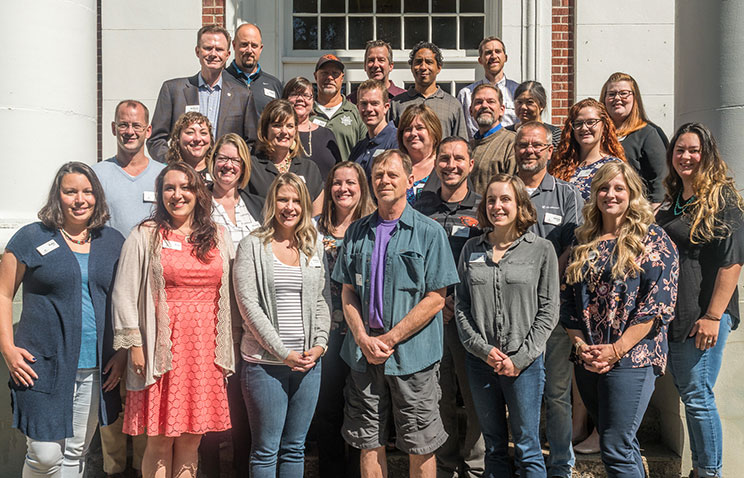 Leadership Corvallis' Class of 2020 is poised to take the community to a new level. Beginning in September, the newest class began a 10-month exploration in the inner workings of the City of Corvallis and Benton County.
Twenty-eight of the area's most passionate citizens are set to take an active role in shaping community policy by participating in this program. Participants will learn about the processes, agencies, institutions and the people behind them that make Corvallis function and thrive through various site tours, presentations, panel discussions and more.
"Leadership Corvallis continues to be a rich, immersive experience for new and established community leaders," says Leadership Corvallis Board President Janelle Iverson. "Each class day focuses on a crucial element of our community, building upon the previous sessions to paint the big picture of what makes Corvallis a unique place to live, work and lead."
Gathering on the second Thursday of each month, Leadership Corvallis participants dive into daylong sessions covering a segment of community life in Corvallis in a curriculum keyed to Imagine Corvallis 2040, the city's governing planning document.
Curriculum for each day is developed and hosted by community leaders who volunteer to share their professional insights to inspire the next generation of leaders in Corvallis.
This year's curriculum covers a wide range of topics, including land-use planning, natural resources, economic vitality, education, community leadership, Corvallis culture, government and public services, health care and human services.
The Leadership Corvallis Class of 2020 includes:
Marcus Alderman, Samaritan Health Services
Katy Blye, ReMax Integrity
Eric Cardella, Oregon State University
Jenn Clemo, Center for Nonprofit Stewardship
Kira Cleveland, Neukomm Rock & Gem Shop
Daniel Duncan, Corvallis Police Department
Erin Gibson, Citizens Bank
Jeff Ginalias, Retired
Patrick Gross, Town and Country Realty
Hans Hlawaty, Jamie Hughes Accounting, LLC
Keith Hunnemuller, Benton County Sheriff's Office
Brooke Josler, Lumina Hospice and Palliative Care
James Kaech, Corvallis Clinic
Joseph Kerby, Benton County
Miranda Miller, Samaritan Health Services
Laura Orth, Boys and Girls Club of Corvallis
Christina Rehklau, Visit Corvallis
Ashley Relf, Greenbelt Land Trust
Lynn Russell, Collaborative Employment Innovations
Jerry Sorte, City of Corvallis
Kirsten Starkey, Town and Country Realty
Kayla Steindorf, Reynolds Law Firm
Ashley Talamantes, Benton County Mental Health
Kemble Tsoi, Citizens Bank
Alan Underkofler, Giving for Good
Jes Walker-Wyse, Knight Financial
Aaron Harris, City of Corvallis
Debra Steeprow, Heartland Humane Society
Learn more about the program at leadershipcorvallis.com.