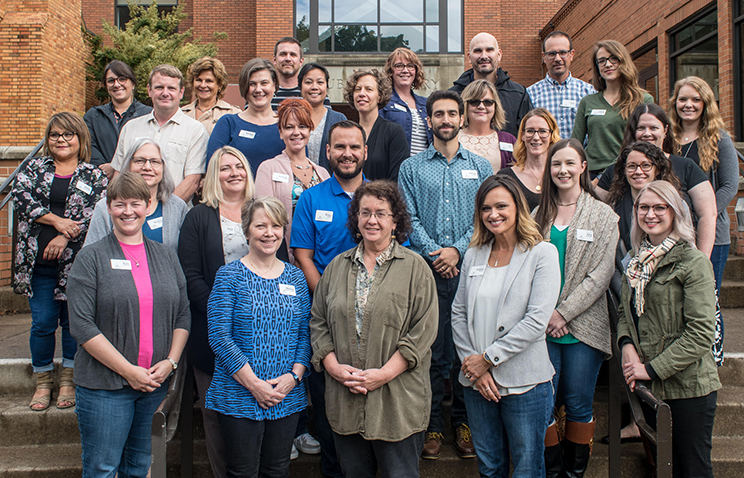 A new group of area residents are set to take on a 10-month-long deep dive into various areas of the local community in this year's Leadership Corvallis program.
Twenty-seven local citizens have been accepted into Leadership Corvallis, a program that prepares local citizens to take an active role in shaping community policy. Through site tours, presentations, panel discussions and more, participants learn about the processes, agencies, institutions and the people behind them that make Corvallis function and thrive.
"Leadership Corvallis is truly a transformative experience in how it shapes and prepares participants to make lasting impacts on the community," says Leadership Corvallis Board President Laura Shields. "Each class year builds on a rich history of service and leadership that makes our city a special place to live."
Leadership Corvallis participants gather on the second Thursday of each month, with the exception of June, for a daylong session covering one segment of community life in Corvallis in a curriculum keyed to Imagine Corvallis 2040, the city's governing planning document. Each day is developed and hosted by community leaders who share their professional insights to inspire the next generation of leaders in Corvallis.
This year's curriculum covers a wide range of topics, including community leadership, Corvallis culture, economic vitality, education, government and public services, health care, human services, land-use planning and natural resources.
The Leadership Corvallis Class of 2019 includes:
Ailiah Schafer, Room at the Inn/Corvallis Housing First
Amanda Lunger, Central Willamette Credit Union
Amy Lesan, Corvallis School District
Amy Spangler, Reynolds Law Firm
Andrew Wynings, LBCC Foundation
Ann Schneider, Tried & True Coffee
Ashlee Chavez, Corvallis-Benton County Public Library
Carrie Norris-Sanchez, OSU Career Development Center
Carrol Esterhuizen, Corvallis Sport and Spine Physical Therapy
Celeste Krueger, Pacific Power
Daniel Sidder, Habitat for Humanity
Diane Converse, Corvallis Environmental Center
Echo Alexzander, FIRST Corvallis
Heather Maisel, Corvallis-Benton County Public Library
Janice Stehle, Citizens Bank
Jason Harvey, Corvallis Police Department
Jeri Hauth, Samaritan Health Services
Julia Perkins, Community Outreach, Inc.
Kate McClain, Citizens Bank
Kate Porsche, Corvallis/Benton County Economic Development Office
Kierra Woekel, Trillium Family Services
Melissa Carter-Goodrum, GP Strategies, Inc.
Paulette Simmons, LBCC Benton Center
Rachael Weber, OSU International Affairs
Ricky Garcia, Benton County Health Department
Robin de la Mora, CEI Works
Sean Nealon, OSU News and Research Communications